MAC launched a new collection today called, "Dare to Wear" today.  I love the name of the collection and the overall concept behind the collection.  The colors are very bold, flashy, bright, and fun. Although all the colors are very intense, it is still possible to create a look that's simple if you incorporate neutrals into the mix.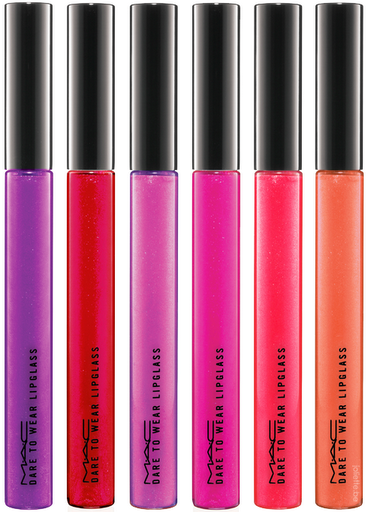 Here are the "Dare to Wear" lip glosses.  I am in love with the slim packaging and the bright colors.  I have always been a bright lip kind of a girl (although now I try to be a little more conservative), I don't think I will be picking any of these up.  Initially, I was planning on buying  handful of them but they are just a little TOO trendy for me.  This is something I'd be obsessed with for a hot minute and then be ready for something new.  I try to avoid buying makeup I'll wear for a week and two and then just have sitting at my vanity.
The consistency of these is very comparable to lip lacquers (which unfortunately MAC does not make anymore) in the sense that it's thicker and has a polish finish.  Except these have much more shine going on.  I'm not sure how I feel about having that much glitter on my lips?  I don't like when you wipe off lipgloss and there is still glittery residue.  NOT CUTE.  It's a shame because the colors are brilliant!
Moving onto the eye shadows, I like that the majority of the colors are matte.  There are 8 out of 12 matte to be exact.  It's good to have a contrast in textures (meaning shiny lips paired with matte shadows is a good combination).
I already own "Winkle" and "Sky Blue" (which is a MAC pro store item).  The only colors that excite me are "Aqua" which is also a MAC Pro store item and "Going Bananas" which came out a few years ago during the "C-Shock" Collection.  "Aqua" is a pretty light matte aqua color and "Going Bananas" is a bright yellow color with a slight frost to it.
Since "Aqua" can be purchased anytime at the MAC Pro store, I think I will just wait until I make a trip there so I can pick it up in pro palette form.  Although I'm very tempted to just buy it in the pot!  Aquas look great on the eyes and I don't have a matte version yet!
I believe in the beauty of this collection but it personally doesn't suit my make-up style.  I'm not really into super bright eye shadows on the eyes, I tend to keep my eye shadows within a neutral color palette and play with color on the lips.  I like to experiment with color on the eyes on myself for fun but not as a daytime or evening look.
If you're going to pick up some shadows, I do highly recommend "Aqua," "Winkle" (LOVE this, it's a felt blue color, very flattering and wearable), "Atlantic Blue," "Crazy Cool," and "Going Bananas."